Whether you are a professional basketball player, a recreational player, or simply a fan of the game, there is a name that will definitely be recognizable to you: Spalding.
I will review best Spalding basketballs for different use conditions and good choices for women game. But at first I want to introduce you to this well known brand in sport industry.
When you supply the best basketball league in the world with balls and backboards, your accolades don't have to be debated at all. But the thing that makes Spalding one of the greatest sports apparel and equipment manufacturers is the fact that they pay attention to semi-pros and amateurs as well. Many of their products are designed for professional use, but you can buy them at a really affordable price. Even the cheapest models they feature offer performance and quality comparable to the professional basketballs used in arenas across the globe. We have been using and testing their products for years now, and it was about time to create a Spalding basketball specific article.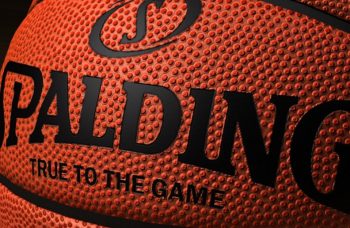 Spalding uses different materials according to the balls intended use (surface, level of competition, gender, age, etc.). They use genuine leather for most of the premium indoor models. Spalding genuine leather balls are simply the best indoor basketballs on the market, according to most of the sources. The fact that it's being used in the NBA, top basketball league of the world, just speaks louder than words and screams about best quality. The quality of the material and the craftsmanship of the balls are what separates them from the competition. The same could be said about their composite leather balls. Spalding uses composite materials for the mid-tier models and balls that can be used on multiple surfaces. Coupled with the other patented solutions, most of their composite models are at the top of the best-selling charts all over the world. Lastly, for their outdoors models, Spalding uses rubber and they had much success with it. Spalding rubber basketballs offer great performance and the material used is durable and tough. The area where Spalding excels at, compared to the competition, is the longevity of their rubber ball models.
Now let's observe top picks in each of the categories we mentioned previously.
Spaldings for Indoor Use
Spaldings for Outdoor Use
Universal Indoor/Outdoor Spaldings
Spaldings for Women
Origins of Spalding in Basketball World
Albert Goodwill Spalding started his professional baseball career in 1871 as Boston Red Stockings. He was one of the best players at that time. In 1876 he retired from baseball and went straight to business. Interesting fact is that he used his own ball in games even before he started business, he made it by himself. Same year A.G. Spalding & Brothers opens first store in Chicago. Later on company starts manufacturing all goods for baseball.
Now let's talk about how it all started to connect with basketball game.
James Naismith invented the game in 1891, players at first had to use soccer ball to play. So Naismith asks A.G. Spalding to develop a special ball for this game, and he listens and manufactures it. Later on even in official rules of the game you can find a line that balls made by Spalding shall be used in official games. Now you know how it all began and rest is history.
Interesting Spalding NBA Ball Facts
A day before NBA games referee brings 3 balls to the captains of each teams that will play next day. They must agree on which one ball to use in the game.
Leather used to make NBA game balls are produced by Horween, material the company uses is from Canada.
3 to 4 square feet of leather is used to make one ball.
Basketball signature dots are created by a 1000 tone press with German embossing plates.
Inflated bladder is formed by using 3200 yards of Japanese nylon
Inner sphere is covered by rubber from Malaysia and Vietnam and 8 leather panels are glued by a professional worker and by hand
In 2006 NBA tried to change balls from genuine leather to microfiber composite made ones, but it only lasted for two months as world's players started to complain a lot and NBA had to roll back to using leather basketballs.
Conclusion
Spalding is one of the biggest names in the basketball world. Their good reputation is well-deserved and according to us as well as the user reviews we found on each of these models, Spalding balls are quite often the best choice in the respective segment. Whether you are looking a genuine leather ball, composite material or a rubber covered model, the probability is that Spalding has the best model on the market. Competitive pricing certainly helps, but based on the quality and design features alone, Spalding is the way to go.