Update 2021: The NBA has changed the ball brand from Spalding to Wilson from 2021-22 season. We are planing to get our hands on a new ball soon, but from the rumors it is a very similar ball to the old Spalding made from genuine leather. In other words looks like only branding changed.
Every basketball player wants to get their hands on the best basketball, but what is the best basketball? That is the question that players often ask at some point in time. There is a broad range of basketballs available on the market today. Although the differences may be subtle, they can have a huge impact on how the player performs. Without a doubt, looking for the best basketball is not an easy task. The amalgam of the choices that you will be confronted with will make it even more challenging to arrive at the right decision.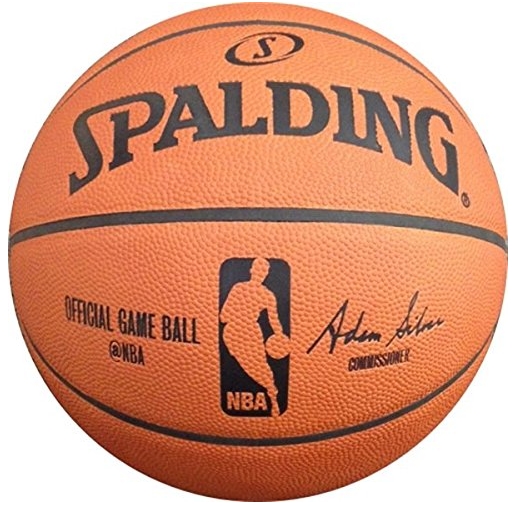 Spalding NBA Official Game Basketball is one of the best basketballs that every player should consider purchasing and of course best ball that Spalding has to offer. It is embedded with the NBA logo and Twitter hashtag and will allow you to play like your favorite superstars in the league as you will be using the same ball. Being used since 1983, this ball has withstood the test of time and competition from other basketball manufacturers.
Features
This ball meets NBA's size and weight standards. It is ideal for top-level competitive play as well as for street basketball because it is made using high-performance rubber that is designed to bounce easily on hard surfaces, withstanding wear and tear from heavy use. Having wide channels to offer excellent control and grip of the ball along with a durable exterior, the ball is worth spending every penny. Along with its sustainability, the basketball features impeccable consistency that gives the player the right amount of control when they need it. The top-notch grip of the ball allows players to make many attacks toward the basket. Another of the many great features of this basketball is that it is available in three sizes and a variety of colors to suit the personal needs of every player. The fact that best basketball league in the world use these balls for official games is enough to know about quality.
Video Review
Spalding NBA Official Games Basketball PROS & CONS
Pros
This basketball is very affordable and can be purchased for less than $200. It is designed to be used both indoors and outdoors as well as on rough and hard surfaces. Including a regulation size, it comes in two different sizes. The ball is very easy to handle, and you can expect an improved performance with this ball, which is extremely important in professional leagues. It delivers an enhanced feel while offering a better control of the ball. You can dribble the ball with confidence and be assured that it will score a goal. Best material is used, like the classic balls from the old days this one is made from genuine leather.
Cons
On the contrary, this basketball is very hard and not sufficiently cushioned. Although it is reasonably priced, the ball is not as long-lasting and durable as leather or even composite leather balls. It tends to deflate faster than the more expensive and higher-quality balls. Genuine leather balls needs a break in period for best  grip and bounce performance.
Verdict
If you are going to play basketball, whether recreationally or competitively, you will want to get the best basketball like the Spalding NBA Official Game Basketball. It combines excellent quality material with an incredible grip and control so that the player can improve as they play. I think that every player who loves this game should use genuine leather ball. Of course one minus is that these need a break in period for the best performance but to experience the same feeling like NBA players have – it's worth the effort.