This is a universal basketball that can be used for both indoor and outdoor courts. It features an official NBA size and weight and it offers an affordable option for those looking for a Sunday game ball. Spalding implemented measures that prevent this ball to get deflated and they called it NeverFlat. While testing this ball, we were surprised with the overall quality, especially since this is a not an expensive product.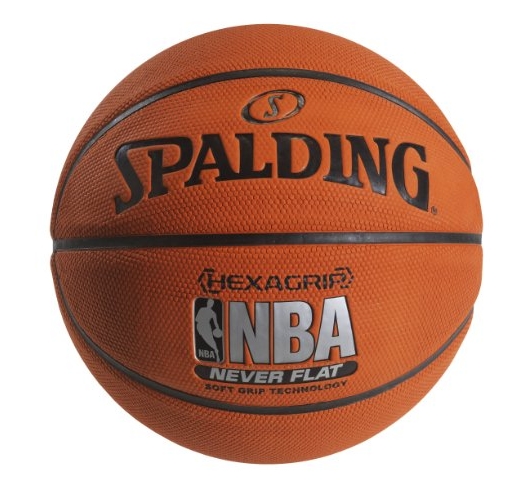 Grip
Spalding NBA Hexagrip Soft Grip NeverFlat features a couple of interesting details, most of which are outlined even in its name. Hexagrip technology offers a soft grip and at the same makes sure that the air stays in the ball even under extreme bounces. The surface is covered with hexagonal pattern and it provides an optimal grip for dribbling and shooting. The channels are wide enough to offer great control during the release and ensure a proper ball rotation. The only thing this ball suffers from is that it really doesn't handle well on dirty and dusty courts. When it is clean, this ball is amazing, but if you play on the dusty hardwood or dirty outdoor courts, you might have some issues. A wet hand test showed good grip even in the cases of extreme moisture.
Bounce
After multiple tests, we found that this ball bounces at an even rate regardless of the temperature and the surface. The NeverFlat system works really well and even after a ferocious pounding, the bounce consistency remained untouched. This really goes to prove that even affordable balls can offer a good performance. There is also an important thing to point out here. Soft grip balls tend to lose their shape after a couple of months of usage. The testimonials we read about this ball show that no such issues plague this model.
Conclusion
Spalding NBA Hexagrip Soft Grip NeverFlat strikes a good balance between price and value and you could use this ball for training camps and recreational games. It will not disappoint you or let you down in any way. On the other hand, it is still a lower tier basketball and you can only expect so much from it. An average user rating of 3.9 stars seems to be a genuine indicator of the real quality of this ball. All things considered, this ball falls right in the middle of the segment and such should be your expectations as well.