Wilson NCAA Jet Pro Basketball is one top-quality basketball from Wilson – basketball manufacturers that aim to ignite the true potential in every athlete across the world. Looking at the solid and durable construction of NCAA Jet Pro, it has to offer topnotch performance that every basketball player desires to deliver. Coming with the perfect size and right inflation level, this basketball makes a great choice for young ballers.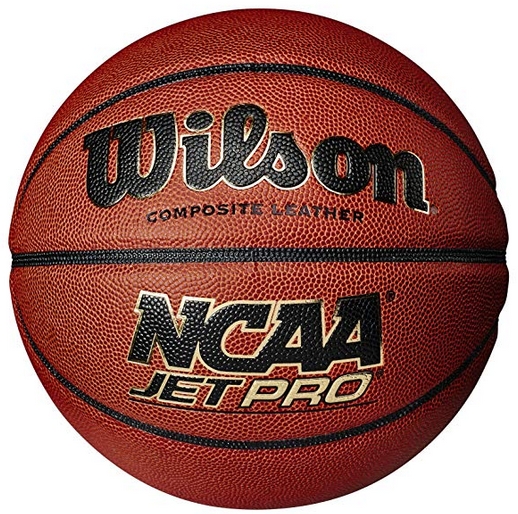 Features and Technologies used
Getting into detailed features and technologies used in Wilson NCAA Jet Pro Basketball, we came across a lot of unique features and high-end specs. Here is the significant one for you:
Composite leather
NCAA Jet Pro comes constructed with high-quality composite leather that neither feels too leathery nor too rubbery. It is known to offer just the right leather composition. It makes the outer layer quite soft.
Great control
Credited to its composite leather construction, NCA Jet Pro provides great control. You are in complete control of the ball, and with your eye pointed to the basket, you can make a perfect shot. The quality construction allows for extra control that other average basketballs do not have to offer.
Dual-tone cover
One thing we highly acknowledge about NCAA Jet Pro is its dual-tone cover that further adds to the grip. This basketball is known for its exceptional grip-ability that makes it easier to spend days on the court practicing for the final match.
Pebbled rubber channels
When it comes to the channels, NCAA Jet Pro features pebbled rubber channels that allow super grip and control. You can rightly fit your fingers in these channels as you aim for a successful shot.
Durability
All regards to its premium carcass construction, NCAA Jet Pro defines durability really well. Having this ball for years, you will know what durability means. The dual-tone cover, along with composite leather construction, is never going to fail you.
Best for Youth
NCAA Jet Pro is designed for the youth. The extra control, quality construction, and great channels are everything today's ballers look for. So if your child is a basketball enthusiast, this ball makes a good option. This ball is official basketball of March Madness.
Value for money
Wilson NCAA Jet Pro offers good value for money. Coming with an affordable price tag and looking into the features of this basketball, it is really worth the money.
Pros
What we liked about Wilson NCAA Jet Pro Basketball is:
Solid construction
Durable
Affordable
Pebbled rubber channels and extra control
High grip ability
Cons
What we didn't like about Wilson NCAA Jet Pro Basketball is:
Only for young basketball players
Rough appearance
No moisture control system
Verdict
Overall, Wilson NCAA Jet Pro Basketball makes a good basketball choice. Coming from a well-known manufacturer, it offers all the top features that a basketball should minus a highly needed moisture-absorbent system.
However, if you are an experienced basketball, you might want to look for other basketballs featuring advanced technologies such as extended range and moisture-wicking.