Getting your kid a first hoop is kind of a special thing. But there is always a dilemma, especially if you are unsure whether your child is actually interested in basketball or not. Basically, what is best recommended is getting a hoop that will serve a purpose, be portable and flexible, but still not costing much. Trying to give an answer to the question, is there a hoop that can match all the criteria, we tested Lifetime 1221 Pro Court. This one belongs to the sort of a penny saver category and we thoroughly tested its capabilities. So read on.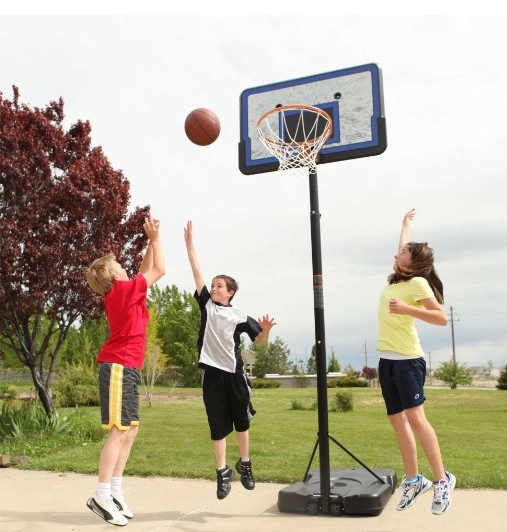 Lifetime 1221 model is one of the best portable hoops that uses water or sand as a counterweight. There is a 27-gallon base that can be filled and it proved to be sufficient for kid-friendly use. It won't tolerate any hanging on the rim no matter how big your kid is, but the ball bouncing off the rim won't affect its stability in any way. This hoop features a 44″ backboard which is quite sufficient for your child to learn the basics of the backboard usage. The rim is a bit on the thinner side and if your kid really likes to dunk, it might be an issue. If you are wondering how can kids dunk on this hoop, the explanation is easy. Lifetime 1221 features a telescopic mechanism that you can adjust in increments. 7.5 to 10 feet options are available so the hoop offers plenty of flexibility. The materials used are water resistant and overall won't suffer from the elements all too much.
Check Price On Amazon.com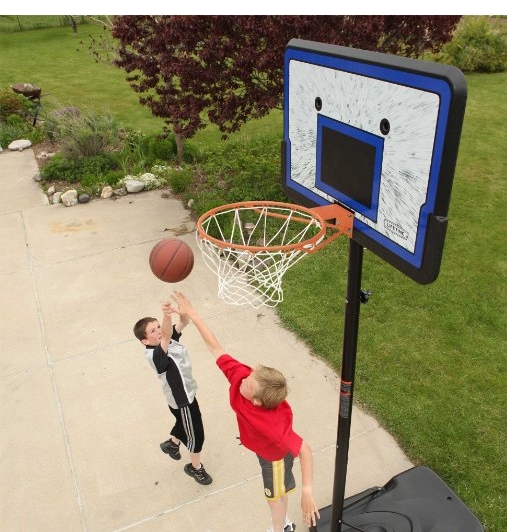 The stability is a minor issue as there is not much tolerance to the strong impacts on the backboard or a rim. The stability becomes an issue if you fully extend the telescope. This is a hoop particularly intended for children and adult use is not quite its field. On the other hand, the assembly and mobility are quite simplified. The wheels on the base offer an easy moving solution and this hoop can be deployed in seconds.
Lifetime 1221 Video Review
Being a hoop primarily intended for kids, we tested out its safety. We banged it quite heavily trying to break it, and we managed only to slightly damage it after being really violent. The safety is almost guaranteed and nothing short of intentional proper violence will damage this hoop. The rim is built with two solid steel braces and the hoop comes with a 5-year warranty. Overall, this is a good and affordable choice when it comes to portable hoops. Your kids will enjoy it and if they realize basketball is not their thing, you won't be regretting spending money on it, because this one is really cheap that makes it affordable to the majority of people, thanks to LifeTime company for that.