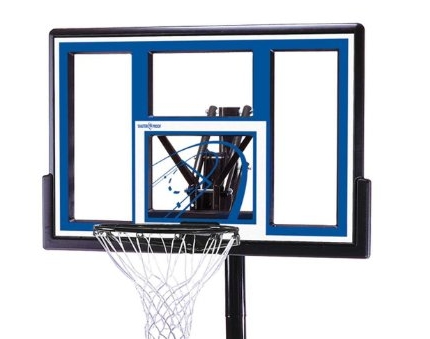 Having a backyard portable hoop is a dream for most of the kids and we are here to help you pick the best. Whether they are interested in basketball or not, a hoop is always a hub of happening and kids like to play, especially with their friends. Lifetime 1531 is a portable hoop intended for children, but adults can easily make use of it. This model is still amongst the cheapest ones and a 4-star user rating got us interested. Our test included a wide array of criteria and we divided this review into categories for easier overview, so check our review of this Lifetime hoop system as we believe this one might be one the best choices for you.
Assembly and deployment
Lifetime 1531 features a 48″ Shatterproof Fusion backboard that is quite sufficient even for adult use. The Makralon surface is fade resistant and the design of the backboard will stay the same for years. The hoop is easily deployable as it features wheels on the base that offer great mobility. Simply roll your hoop to wherever you want to play. The base is a 31-gallon tank that can be filled with water or sand and it acts as a counterweight. The assembly is easy and putting it together requires no brainpower at all, everything is simply bolted on and ready to play.
Check Price On Amazon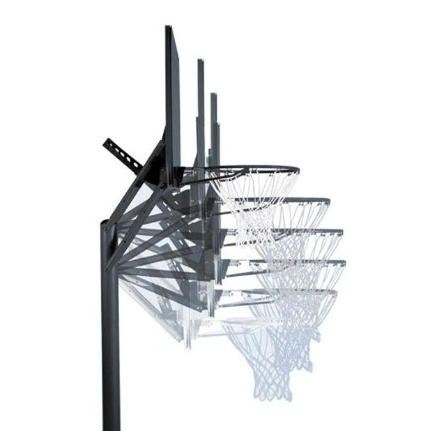 Stability
This hoop features adjustable telescopic height pole which lets you place the rim anywhere between 8 and 10 feet. When fully extended, Lifetime 1531 is wind and ball resistant. That means that there is no rocking or swaying of the hoop when the ball is bouncing on the rim. It's still not recommended dunking and hanging on it. The swaying is minimized by the spring loaded hoop as well. You can adjust how much dampening the hoop provides and it can directly have an impact on your short percentage as well. The base is filled with water or sand, but there is also the option to fill it with stability gel. We found that gel offers the best stability. Overall, kids will have no issues using this hoop and adults can use it to a reasonable extent as well.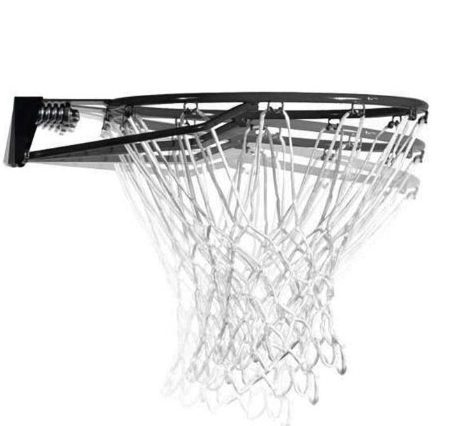 Safety
Lifetime 1531 is designed with safety as a priority. Padding on the bottom of the backboard protects heads and arms from getting seriously injured. All the materials used are rust proofed and there should be no issues, even after a couple of years of elements pounding on it. The shatterproof backboard is another safety feature that will put your mind at ease. A 5-year warranty by the manufacturer should be good enough of a reason to trust the safety of this hoop
Our Verdict
Lifetime 1531 is a good affordable option for a portable hoop. All the features on it correspond very well to the price range and we have major issues with it. Overall, a solid starting option for a portable hoop.